Why You Should Choose Vinyl Flooring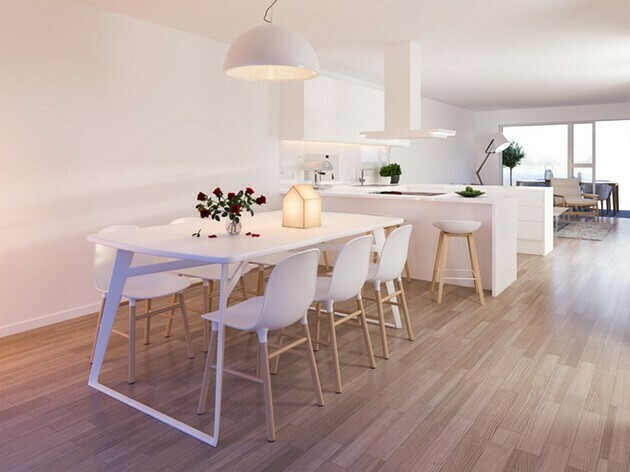 If you are looking for flooring options for your home or business, you probably have looked at traditional products like hardwood and carpet, but you may have overlooked one of the most viable and cost-effective flooring materials on the market. Vinyl flooring has come a long way over the past few decades and there are hundreds of options available ranging from wood grain styles to beautiful tile designs perfect for any room. No matter what kind of flooring you are thinking about installing in your space, trust the expert staff here at McSwain Carpets & Floors.
Durability
One of the biggest misconceptions around vinyl flooring is that it is not as long lasting as its natural counterparts. The truth is that vinyl flooring is immensely durable and can stand the test of time. Depending on the type of vinyl flooring that you get, your flooring could actually be more durable and require less maintenance than traditional hardwood. Vinyl is especially beneficial for pet owners. Dogs and cats can really tear up hardwood with their claws and any unfortunate accidents in the home. Vinyl flooring can stand up to these hazards and more due to its strong construction and composition.
Scratch, Mold and Mildew Resistant
If you have pets or children, your flooring is most likely going to take a bit of a beating over its lifespan. Carpet can stain easily and hardwood requires refinishing if any deep scratching takes place, but quality vinyl flooring can stand the test of time. Different types of vinyl can last longer than others, but if you get a quality vinyl, it will be scratch, mold and mildew resistant. High-quality vinyl flooring often comes with a composite urethane topcoat that doesn't require any resurfacing throughout its entire lifespan. No matter what kind of flooring you are looking for, there is a beautiful vinyl option that will last for decades with little to no maintenance.
Quality Floors for a Great Price
One of the most important aspects of choosing your next flooring option is finding the right flooring option for your budget. Hardwood is beautiful but it can get extremely expensive, especially if you have a lot of square footage to cover. Vinyl flooring provides all the beauty of hardwood floors without the steep price tag. Vinyl flooring comes with a wide variety of beautiful styles of wood grain with subtle differences to give a truly unique look to every installation. Our installation specialists know how to install vinyl flooring to match the grains to make your flooring look just as good as any hardwood or tile flooring on the market.
If you are looking for a beautiful flooring option that won't break the bank, vinyl flooring is perfect for you. With beautiful options ranging from wood grain to beautiful tile looks, there is a vinyl option perfect for any room in your space. Don't settle for second best! Get the best product installed by the most expert technicians in the tristate area from your friends here at McSwain Carpets & Floors