The World Floor Covering Association Recognizes McSwain Carpets and Floors with the Gold Standard Award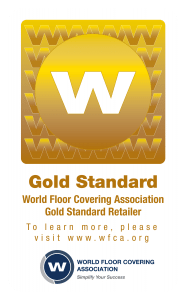 Humble assurance: we can always do better to achieve our fullest; our best. We are not perfect and no place for pride. This approach accomplished industry recognition upon the associates of McSwain Carpets & Floors for exemplifying an outstanding retail experience to our customers.
I have great appreciation to all our associates for their contribution to achieve this esteemed recognition in making our customer experiences award worthy.
The World Floor Covering Association (WFCA) selects one flooring retailer annually for their creation & commitment to provide an outstanding retail experience for their customers and their ability to continue to improve the experience for the benefit & enjoyment of the customer.
Although I personally know several flooring retailers worthy of this award, it is a professional treat to share this news of recognition with our customers and our winning team of associates.
Building on the solid foundation of customer service my Dad, founder Ron McSwain, created with his team over 50 years ago, we continue to strengthen our brand of service today.
Our McSwain retail experience was evaluated against our peers on the following four categories:
Knowledge – ensuring the management team and all employees work to remain actively informed on the industry
Customer Service – providing courteous service and offering customers help throughout the purchase and after-purchase process
Quality of Store Image – a clean, professional, well maintained store must be present at all times
Code of Conduct – the retailer must adhere to the WFCA Code of Conduct
A clean Better Business Bureau report is also a mandatory requirement. I am pleased to say that McSwain has an A+ rating and has been honored with 25 years of BBB accreditation.
We welcome you, our customers, to experience the award winning satisfaction McSwain can provide for your next project.
With gratitude,
Jason S. McSwain
President