Set Your Space Apart With A Bold Flooring Pattern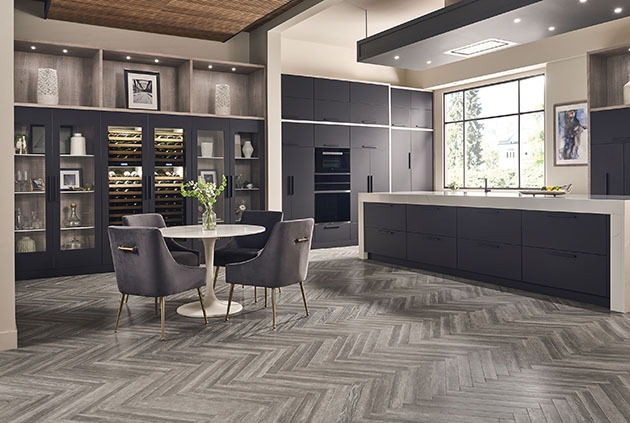 Your flooring is one of the largest canvases in your home, and if you want a make a statement with your space, there is nothing better than a beautiful flooring pattern. From patterned tiles to mosaics and unique hardwood designs, there are plenty of ways that you can make your space sing without compromising your design aesthetics. If you are looking for the right company to help you through your new flooring installation, look no further than McSwain Carpets & Flooring. Our expert staff will help you get the flooring of your dreams without breaking your budget. Contact us to get your free in-home estimate today.
Patterned Tiles
Tile flooring is as durable as it is versatile, with options ranging from simple sleek white tiles to beautifully intricate patterned pieces. Patterned tile, especially on larger tiles, can give your flooring a beautifully expansive feel to it while drawing the eye towards the center of the room. You can get as creative as you would like with these patterns. You can even add in a central mosaic piece or a mosaic running along the border to add even more detail and intricacy to your already eye-catching design. This flooring style allows you to set the stage for your personal design aesthetic to truly shine in any space large or small.
Herringbone
Herringbone flooring is one of the most classically beautiful flooring styles of all time. This beautiful pattern can be applied to hardwood, tile, laminate and vinyl flooring options. These versatile materials can be used in thin strips or thick planks; herringbone looks beautiful in any thickness. The most traditional herringbone material is hardwood, usually finished with a light brown finish. If hardwood is too expensive for you but you want that same traditional look that hardwood offers, there are hundreds of laminate and vinyl options on the market that offer the same beautiful look of wood for a fraction of the cost. These materials will look almost identical, but will not last as long as traditional hardwood as many of these materials cannot be refinished if any serious damage occurs. The most important part of any herringbone design is finding an expert flooring installation specialist to create a uniform and beautiful pattern. All of the installation specialists here at McSwain Carpets & Flooring are experts in their field and love the opportunity to work on beautiful designs like herringbone flooring.
Mosaics
Mosaics have historically been some of the most ornate and breathtaking flooring options out there. When you think of mosaic flooring, you might think that the prices would be astronomical and that the turnaround time would be extensive, but with modern prefabricated mosaic options, your flooring could be installed in as little as a few days. Most homeowners choose mosaic flooring for bathrooms and kitchens, but mosaic can look beautiful in any space. We can even custom design and install intricate mosaics that will perfectly complement even the most ambitious designs.
If you are looking to update your flooring or want to try a new design aesthetic for your space, let the expert team at McSwain Carpets & Flooring help you. Our elite design and installation teams will have your floors looking better than you've ever dreamed in just a few short days.