Prepping Your Home for Carpet Installation – What You Need to Know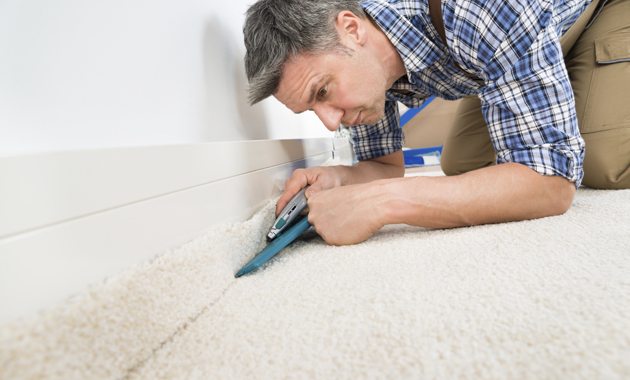 Getting new carpet installed in your home is definitely an exciting time, but it does require quite a bit of preparation in order to minimize any hiccups in the process. Below are some tips to keep in mind to help you properly prepare your home for a carpet installation.
Make sure the room is completely empty before beginning the installation process. This means moving all of the furniture out of the room, and detaching and storing all wiring from various electronics (e.g., TVs, DVD players, home entertainment systems, computers, etc.). To avoid extra charges, many homeowners will remove as many items themselves as they can, and then hire professionals for the larger items such as pianos, pool tables, or beds. It's also a good idea to remove all hanging objects from the installation area.
If carpet is being installed in an area where there are appliances with connections to gas or water lines (e.g., stoves, refrigerators, dishwashers, etc.), be sure to make the proper arrangements for disconnecting and reconnecting these items before installation time.
It's a good idea to have your heating and air conditioning fully operational for a minimum of 24 hours before the installation. The ideal temperature for the installation area should be between 60 and 80 degrees Fahrenheit.
If there are other renovation or remodeling projects happening around the same time, be sure they don't overlap with the installation period. For example, you're going to want all drywall work, plastering, or paint jobs to be fully completed and dried well before installation time.
Prior to the installation, all windows and doors should be in place so that the space will be completely enclosed.
Electrical power will need to be made available to the installation crew for tools and related equipment. Also, if there are any hidden wiring sources for security systems or other electronics, be sure to make the installation crew aware of it in advance.
If you have valuable items in or near the area of the installation, go ahead and remove those items, and store them in a safe place.
Clean all closet floors of any shoes, clothing, or other items.
Make sure to drain any waterbeds or aquariums before removing them from the installation area.
Your installation may require sanding; if this is the case, be sure to cover all cupboards, shelves, and other furniture in the nearby area.
In most cases, baseboards and moldings can be left in place, but the installers cannot be responsible for any damage that may occur.
On the day of installation, make sure that any small children or pets are kept safely away from the work area. In addition, if anyone in your home has a respiratory condition that may be aggravated by dust or other airborne particles, it's better for them to avoid the work area entirely until the installation has been fully completed and the site has been cleaned up.
McSwain Carpets & Floors has become the top choice for the flooring and carpet Dayton and Cincinnati homeowners prefer. Our knowledgeable and skilled team of flooring experts will install your carpet with the utmost care and professionalism. Stop by one of our nine convenient showrooms in the Tri-State area to see how we can provide you with a smooth, hassle-free carpet installation that will breathe new life into your home.