Is Laminate Flooring the Answer? How to Decide If It's Right for Your Home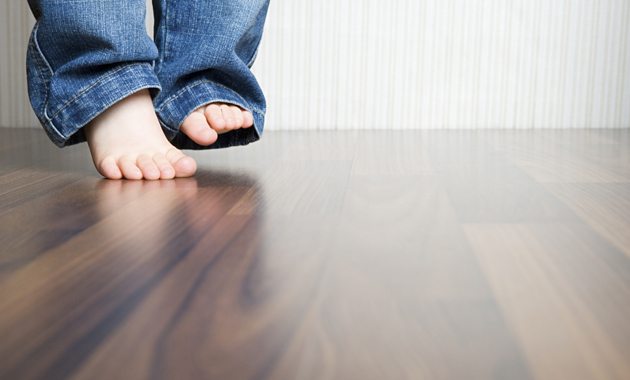 Remodeling a home typically requires a lot of important decisions to be made, and quite often homeowners have a hard time choosing what type of flooring they want to install. Among the many different options available, laminate flooring is one of the most popular choices, but is it the best move to make in light of your specific needs? Below are some pros and cons to consider about laminate flooring that will help you make a more well-informed decision.
Advantages of Laminate Flooring
Durability – Laminate flooring is a strong and exceptionally durable surface, and is more scratch-resistant than its hardwood counterpart. The top layer is protected by a resilient resin coating, which makes it better able to withstand the rigors of heavy foot traffic.
Easy Cleaning and Maintenance – The surface of laminate flooring is both moisture and stain-resistant, which means that it's easier to clean up spills and other mishaps. In addition, you won't need any special type of cleaner to keep it in tip-top shape; as long as you sweep it frequently and wipe up spills when they occur, your laminate floor will hold up beautifully.
Wide Range of Styles and Patterns – Laminate flooring is extremely versatile, and can mimic the look of real wood, tile, or stone. In addition, you can order laminate flooring in various thicknesses, plank styles, and colors.
Cost-Effective – Generally speaking, laminate flooring costs less than other flooring options, and is available in a sizable range of prices that can fit practically any budget. In addition, laminate flooring is far easier to install than other floor types due to its interlocking design. In fact, most laminate flooring is glueless click, which really cuts down on the time and money required to install the flooring.
Eco-Friendliness – Laminate flooring is made primarily from paper, which means that no hardwoods are harvested or used in its manufacture (as is the case with wood flooring). In addition, should the flooring ever need to be removed or replaced, you can dispose of it without harming the environment.
Disadvantages of Laminate Flooring
Not Recommended for Outdoor Installation – Laminate flooring does not hold up well in areas where lots of moisture is present. This includes laundry rooms and bathrooms, as any water-related accidents could potentially cause major damage. While laminate flooring can easily withstand damp mopping, it's not waterproof, and doesn't hold up well in cases where extensive moisture is present. If water seeps into the locking system or beneath the surface layer, it can cause swelling or warping.
Conducive to Slips and Static – Laminate flooring is typically more slippery than hardwood flooring, and it has also been noted for its tendency to generate static electricity. Keeping the floor swept and clean will help to alleviate any unpleasant "shocks."
Lower Resale Value – In terms of contributing to your home's resale value, laminate flooring doesn't pack quite as much of a punch as hardwood or engineered wood flooring.
If you're trying to decide between laminate or hardwood flooring, Cincinnati flooring specialist McSwain Carpets & Floors can offer expert-level insight to help you decide which route to go. Our knowledgeable and experienced staff can provide you with well-thought-out recommendations and flooring options that will make the most sense for your particular needs and budget.