How to Use Ceramic Tile Indoors and Outside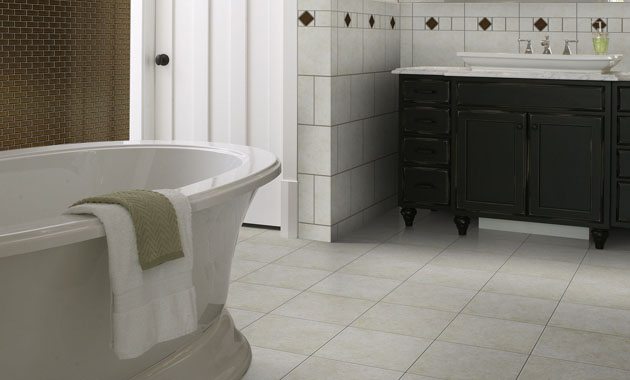 Ceramic tile has been a favorite material for builders ever since the days of antiquity, being the covering of choice for floors, walls, rooftops, pavement, and dozens of other structures and furnishings. One of the things that gives ceramic tile its universal appeal is its exceptional durability, not to mention its remarkable range of designs and colors. Formed from wet clay and hardened by being baked in an ultra-hot kiln, ceramic tile has the hardness and tensile strength to be able to withstand years of foot traffic while retaining its natural beauty. With all of the resilience and versatility that ceramic tile offers, it's an ideal material for both indoor and outdoor use; read on to find out how ceramic tiles can be used for both your interior and exterior home improvement projects.
Indoor Uses
Ceramic tile is an extremely popular choice for use inside the home. When properly glazed and sealed, ceramic tile is able to withstand all kinds of spills, pet accidents, and more, making it super-easy to clean and maintain. In addition, ceramic tile can actually improve your indoor air quality, because it emits little to no volatile organic compounds (VOCs) – i.e., harmful chemicals released as gases from liquids or solids – which can contribute to a variety of health issues. Here are some of the most common indoor uses for ceramic tile:
Flooring – This is perhaps the most popular use for ceramic tile in the home. Since ceramic tile is highly moisture-resistant, it's a common choice for kitchens and bathrooms. Ceramic tile can also withstand scratches and dents, making it a top choice for high-traffic areas such as foyers and kitchens.
Kitchen and Bathroom Backsplashes – This is where ceramic tile can really shine in terms of its versatility of design and color.
Walls – Ceramic tile is often used to cover bathroom walls, including the walls in the shower area.
Countertops – Kitchens and bathrooms are a common area where ceramic tile is used to create a beautiful, durable and easy-to-maintain countertop surface.
Outdoor Uses
From the beautiful multi-colored tile mosaics that decorate the streets of Barcelona to the ancient ruins of Pompeii, you can find amazing examples of outdoor ceramic tile work all over the planet. Exterior ceramic tile can retain its beauty and durability even after centuries of wear and tear, which is why it's an ideal material to use for patios, outdoor kitchens, grilling areas, or even as a decorative covering for front porch stoops. Keep in mind that if you're going to use ceramic tile for an exterior project, you will need to make sure that it's specifically manufactured for outdoor use. Your tile must be frost-resistant in order to withstand the recurring freezing/thawing cycles of extreme seasonal changes without cracking. In addition, it's a good idea to use a tile that features somewhat of a gritty texture, so that it can still provide decent traction even when wet.
Since there are so many different types of indoor and outdoor ceramic tiles available, it can be a little overwhelming trying to figure out which one will be the right fit for your home improvement project. This is where the expertise of McSwain Carpets and Floors can really come in handy. We are commonly known for providing the hardwood flooring and carpet Dayton and Cincinnati homeowners prefer, but we can also provide valuable professional insight for your next ceramic tile project. Visit one of our showrooms today to find out how our team of experts can help you bring your next home improvement project to life!