Childproof Your Home with Waterproof Flooring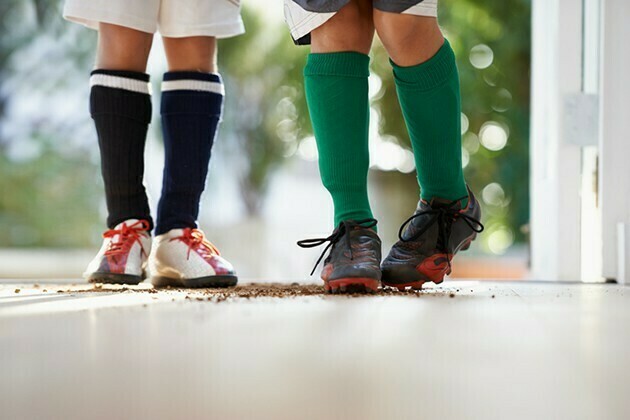 Whether you're a parent or a parent-to-be, you've likely heard the phrase, "Life will never be the same once you have children." However, it's unlikely anyone brought up the fact your floors will also never be the same when you've got a kid or two running around, drawing, and throwing food all over your home. For this reason, parents are turning to waterproof flooring solutions like engineered vinyl plank flooring to save themselves time and money in the long run.
Why Parents Choose Waterproof Flooring
It's Worry Proof
With waterproof flooring spending hours cleaning your carpets or traditional wood floors is a thing of the past. Whether its water and mud being trekked in from outside or a juice spill, you don't have to worry about liquid soaking into the floor causing damage, mildew, or mold. In addition, engineered vinyl plank flooring is designed to prevent UV damage, cracks, chips, and wear from heavy foot traffic, making it the perfect solution for any room in your house.
It's Stylish
Not only is waterproof flooring durable, but it's also stylish. High-definition printing technology allows manufacturers to produce an authentic hardwood, distressed, or stone look, without the high maintenance of its natural counterpart. With a wide variety of colors, textures, and shades, you are sure to find the perfect flooring to suit your style.
It's Easy to Install
Engineered vinyl planks are designed with an innovative rigid core that makes it easy to install on your own. If you're not the DIY type, you can have our professional team install the floors for you, in less time than you may think. With more than 50 years of experience, our installers will have your floors ready for playtime in no time.
It's Easy to Clean
For busy families, engineered vinyl planks are a breeze to clean and maintain. All you need to do to keep your floors looking beautiful is to sweep or vacuum your floors at least once a week to prevent scratching the floor's surface. When your kids make a mess, simply wipe it up with a cloth and/or a microfiber mop, depending on the size of the accident.
At McSwain Carpets & Floors, we understand the importance of finding a flooring solution that is both stylish and practical for your household. That's why we carry a large selection of waterproof engineered vinyl plank floors in a variety of colors, textures, and shades to meet your style preferences.
To learn more about waterproof flooring, contact our team today. Since 1968, our expert team here at McSwain Carpets & Floors has helped families find the perfect flooring solutions. Whether it's laminate installation services in Cincinnati or hardwood floor installation in Dayton, we are ready to help you tackle your latest flooring project.