Best Flooring Options for High-Traffic Areas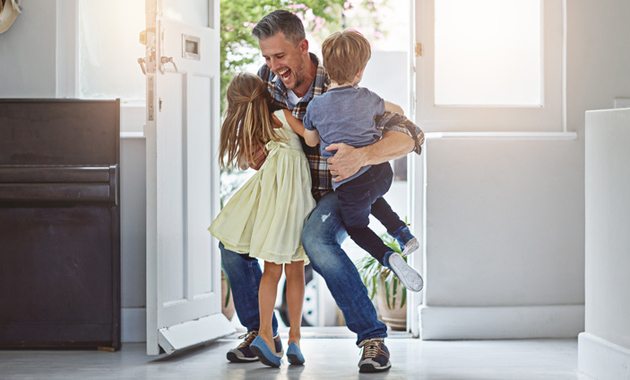 When you're deciding which flooring option would be the best for an area with high foot traffic, you have to consider quite a bit of factors. Not only should your flooring choice look good and mesh well with the surrounding decor, but it needs to be durable enough to withstand multiple years of wear and tear. If you're not quite sure which flooring material to choose, below are five of the best flooring options for high-traffic areas.
1. Laminate Flooring
This uber-popular and highly durable flooring material is comprised of several layers of laminated wood that are reinforced with a moisture-resistant resin. This is topped off by a layer that features a high-resolution image mimicking stone, wood, metal, etc., underneath a clear protective layer known as the "wear layer". This wear layer can range in thickness from 6mm to 15mm, but for areas that see quite a bit of foot traffic (e.g., hallways, entryways, foyers, etc.), it's better to lean towards a thickness of between 12 to 15 millimeters.
2. Vinyl Flooring
Vinyl flooring is perhaps one of the most sought-after flooring materials for builders, because not only is it exceptionally versatile and durable, but it's also very cost-effective as well. Vinyl flooring can withstand quite a beating from daily foot traffic, and it's soft under foot, which allows for more comfort and less noise. Perhaps one of the biggest benefits of choosing vinyl flooring is how easy it is to clean; all you have to do is sweep the floor regularly, and mop occasionally with a damp mop. This ease of cleaning definitely comes in handy if you have kids or pets, as the high foot traffic (usually accompanied with dirt or mud) can really do a number on your floors.
3. Tile Flooring
If a particular flooring material has been around for more than 5,000 years, it's a pretty safe bet in the durability department. We see this with tile floors; some of the oldest structures in the world today are adorned with this classic flooring material, and many are still in remarkably good shape. Tile flooring is dense, hard and very tough, doesn't burn, is not harmful to your health, and is very easy to clean. What more could you ask for in terms of durable flooring? If you install ceramic tile flooring in a high-traffic area, you can rest assured that it will be able to weather all kinds of wear and tear –even the threat of a stiletto heel. If you could name any drawback to tile, it would be the fact that its hardness can make it difficult to stand on for extended periods of time, so keep that in mind in terms of where you might potentially install your tile flooring.
4. Hardwood Flooring
This is another classic flooring material that is well-known for its durability. Hardwood flooring not only looks great in practically any room, but it feels good under foot, and it can take quite a bit of punishment as well. Keep in mind, however, that hardwood floors must be properly maintained in order to provide optimal durability, as they can be susceptible to scratching, and can be damaged if exposed to excessive moisture. If you choose hardwood flooring for a high-traffic area, be sure to opt for a thick wear layer as well as a durable polyurethane finish.
5. Natural Stone Flooring
Natural stone flooring is beautiful, and it offers unbeatable sturdiness and resilience. Stone flooring also offers the benefit of being easy to clean, and it's and mostly non-porous, which means that allergens have virtually no place to set up shop. It is important to note, however, that not all stone floors are created equal when it comes to durability; if you want to use natural stone for a high-traffic area, stick with some of the hardier varieties such as limestone, granite or sandstone.
Choosing the right flooring for a high-traffic area is a big decision, and it never hurts to get some professional advice to help you weigh out your options. McSwain Carpets and Floors is one of the most trusted names in the flooring business, and our team of flooring experts can help you determine which flooring choice would be the best one to suit your needs. So whether you need hardwood flooring installation in Cincinnati or carpet installation in Dayton, be sure to give us a call so that we can help you find the perfect flooring choice for your next home improvement project!