6 Tips for Creating a Photo-Worthy Laundry Room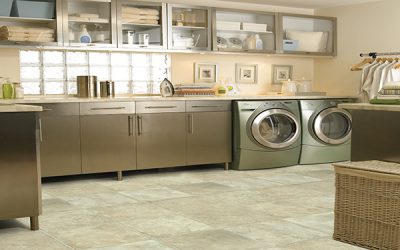 If we're being honest, laundry rooms traditionally haven't gotten a lot of love in the decor department. This has definitely changed in recent years, as now the trend of laundry room renovation has been spreading like wildfire (we're looking at you, Houzz and Pinterest). Perhaps you've been thinking about what you can do to spruce up this vital vestibule; if that's the case, try the following tips to help create a photo-worthy laundry.
1. Try bold colors.
Since laundry rooms are typically smaller spaces, they're a pretty safe bet for experimenting with splashes of bold color. Bright hues such as sunshine yellow or brick red can make a daring statement without being overpowering. Consider using tile to create a fun and colorful backsplash.
2. Baskets are your best friend.

If there's any space in your home that can be prone to accumulations of clutter, it would definitely be the laundry room. Between detergents, stain removers and dryer sheets, there are plenty of random items that need a place to stay when they're not being used. Try employing stylish wicker baskets, rattan containers, metal bins, chicken-wire trays, and/or other catch-alls to bring a sense of order to the space while adding a bit of visual flair as well.
3. Create a focal point with a bench.
Every photo-worthy room needs a focal point, and your laundry is no exception. By installing an attractive bench, you can kill two birds with stone: not only will it serve as a worthy source of eye candy in the decor department, but it will also provide a convenient seating area when needed.
4. Install storage shelves.
Storage shelves can add a healthy dose of visual interest to your laundry room, while also serving a very practical purpose. Keep all of your accessories, doodads and knickknacks on these shelves and off the floor, so that you won't have to worry about tripping over random items that would typically be underfoot.
5. Hang some artwork.
While it's easy to view your laundry room as little more than a transitional space, who's to say that it can't be a sanctuary all on its own? Hanging a stand-out piece of artwork in a strategic spot on your laundry room wall will liven up the space and make it that much more enjoyable.
6. Use laminate wall décor.
Create an accent wall using laminate wall décor. After all, the material is inexpensive, and comes in a variety of styles, designs and types of wood, including pine, maple and oak. With so many options, laminate wall décor can be used to complement a number of looks.
Flooring is one of the most important considerations for any type of room renovation, laundry rooms included! With so many different flooring types and styles to choose from, it can be difficult sometimes to determine which choice will work best for your project. The good news is that you don't have to go it alone! The flooring experts at McSwain Carpets & Floors are well-versed in flooring installations of all kinds, and our completed projects have ranged from carpet installation in Dayton to hardwood flooring in Cincinnati, and practically everything in between. Give us a call or visit one of our showrooms today to see how our team of flooring professionals can help give your laundry a photo-worthy look!