4 Timeless Tile Designs for the Kitchen and Bath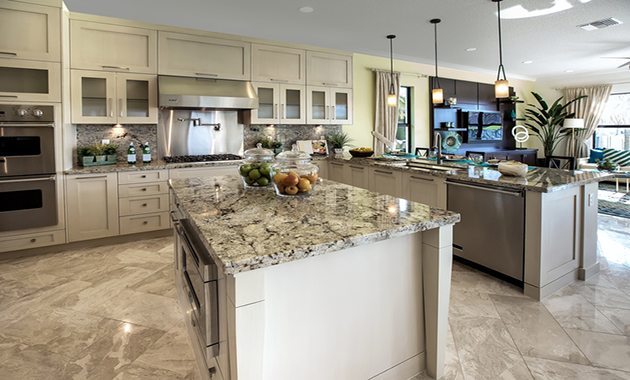 ?1. Subway Tile
Part chic, part classic and all iconic, subway tile has long been a wildly popular choice for kitchen and bathroom designers who are looking to uphold a timeless aesthetic. True to their namesake, subway tiles made their first appearance in the subway stations of New York City in 1904. The idea of using easy-to-clean white ceramic tile in these subterranean transit stations held special appeal for the Victorians of that era, who were obsessively concerned about hygiene. Not only that, but the brilliant and highly reflective white color of these distinctive tiles also served to brighten up those dark underground stations. Nowadays, subway tiles are a reliable option for a variety of kitchen and bathroom designs due to their versatility and cost-effectiveness, and they offer a classic look that is somehow both nostalgic and modern at the same time.
2. Marble Tile
If you're seeking a gorgeous material that offers a timeless and luxurious look, it's impossible to overlook marble tile. This natural stone has a near-translucent quality that produces a glowing look under the right lighting, making it a perfect complement to a wide range of kitchen and bathroom design schemes. We all know the aesthetic value that marble brings to countertops, but marble tile is also a great way to add a touch of contrast and balance to white finishes. While its beauty is undeniable, it should be noted that marble tile requires regular maintenance (mainly cleaning and sealing) in order to provide optimal performance.
3. Wood-Look Tile
It's no mystery that hardwood floors and water are not the best of friends, which is why many people have reluctantly shied away from installing genuine hardwood flooring in kitchens and bathrooms. To the aesthetic-minded person this is most unfortunate, because it's hard to beat the warm, classic look that hardwood provides. Thanks to modern technology, however, homeowners and designers have the option of installing wood-look tile in kitchen and bath areas to emulate this timeless building material. With its excellent durability and hassle-free maintenance, wood-look tile is an ideal option for people who want to enjoy the beautiful look of natural hardwood without compromising practical functionality.
4. Hexagonal and Octagonal Tile
As it turns out, polygons are not only useful in geometry class–they can add quite a bit of visual panache to kitchens and bathrooms as well! Hexagonal and octagonal tile are reliable standbys for backsplashes or flooring projects, as they can create a classic look and feel for kitchen and bath spaces. For example, black and white octagonal floor tile in a polka-dot pattern is a sure winner for virtually any bathroom.
The right tile choice can make all the difference between achieving a timeless look and being stuck with a kitchen or bathroom that looks dated after only a few years. If you've been thinking about remodeling your kitchen or bath space, consider enlisting the help of McSwain Carpets and Floors to discover all of the tiling options that are available to you. Our flooring experts can help you choose the perfect tile design that will stand the test of time. Call or visit one of our showrooms today to get your project started off on the right foot.