Wood Floors in the Bathroom? Waterproof Flooring Makes It Possible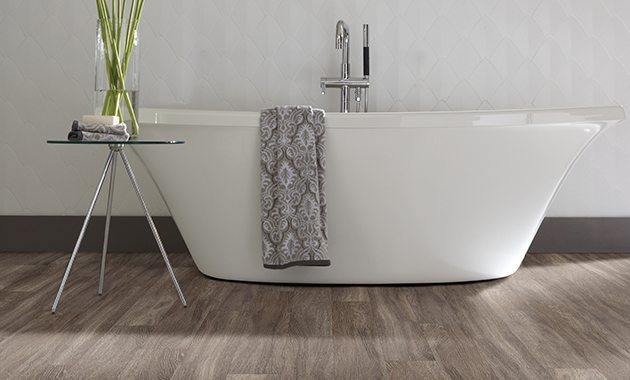 Choosing the right type of flooring for your bathroom can be a tricky affair. Not only do you have to consider a flooring option that will work well with the existing decor, but it has to maintain its functionality in an area that is frequently subject to high levels of moisture and humidity. This is one of the main problems confronting homeowners who want to install wood flooring in their bathroom – they love the warm, timeless look that hardwood offers, but it's a well-known fact that wood and moisture do not mix. So is it possible to enjoy the wonderful look of hardwood flooring in the bathroom without having to worry about potentially expensive water damage issues later down the line? Thanks to the advent of waterproof flooring, the answer is now a resounding "Yes."
What is Waterproof Flooring?
Waterproof laminate flooring is an excellent alternative to hardwood, because it allows you to achieve the same aesthetic appeal without sacrificing long-term durability. The secret lies in the high-definition printing process that offers a highly authentic hardwood look, minus all of the high maintenance. Whenever spills happen, you won't have to worry about water soaking into the floor; the waterproof material provides a highly effective moisture barrier that makes each plank impervious to water penetration. This means even if you left a spill on the floor overnight, the water will still sit on top of the planks without soaking in. This is a night-and-day difference from traditional laminate flooring, which is somewhat water-resistant, but still vulnerable to larger leaks or spills.
Benefits of Waterproof Flooring
Because it is 100% waterproof, it is the ideal flooring choice for high-moisture areas such as bathrooms, basements, and mudrooms.
Waterproof flooring offers an excellent combination of strength, durability, and flexibility, all while concealing the imperfections of the subfloor.
The high-definition printing technology used to create waterproof flooring is designed to emulate the colors and grain patterns of some of the most popular hardwood species, allowing you to enjoy an authentic wood look without worrying about maintenance issues.
At McSwain Carpets & Floors, we understand the importance of choosing a flooring option that makes sense from both an aesthetic and functional perspective. Waterproof flooring allows you to have the "best of both worlds" by offering eye-grabbing design along with exceptional strength and durability. It's not uncommon for homeowners to regret their flooring choice for bathrooms due to the vulnerabilities of the flooring material. For example, if a major plumbing problem such as a busted pipe or a heavy leak were to occur, it's almost guaranteed that a traditional wooden floor would suffer significant damage. Think about it: Not only will you have to lay out some serious cash for plumbing repairs, but then you'll have the additional expense of repairing the damaged floor! With waterproof flooring, you can alleviate the risk of incurring water damage, all while enjoying a highly durable flooring surface that looks great and offers optimal performance in a high-moisture environment.
If you would like to learn more about waterproof flooring, contact the team at McSwain Carpets & Floors to explore your options. Our team has extensive experience in a wide variety of flooring applications, from carpet installation in Dayton to hardwood flooring in Cincinnati, and everything in between. Call us today or visit one of our showrooms to find out how you can add lasting value to your bathroom through the modern marvel of waterproof flooring.