Which Flooring Option is Right for You?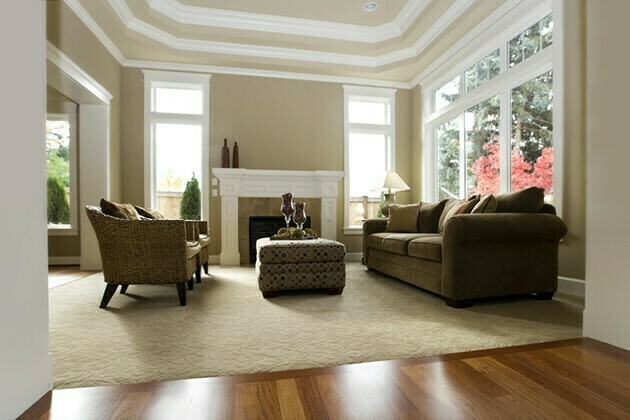 When you buy a new home or are looking to update the flooring in your existing home, making the right design choices is extremely important. The right flooring can open up your home, create warm and comfortable living spaces, and greatly increase the aesthetic appeal and value of your home. If you need help deciding which flooring option to choose for your home, the McSwain Carpets and Floors Shop@Home experts and design consultants can help you make the most of your space.
Carpeting
There are many benefits to utilizing carpets in your home. First and foremost, carpets are a stylish flooring option that can bring a lot of warmth to your living spaces. We have all seen the tacky examples of brown shag carpet that ruled the 70's, but modern carpet comes in a wide variety of colors, patterns, and comfort levels. Carpet is an affordable option that is not only comfortable on your feet but can actually help cut down on your heating costs. Carpets help insulate your flooring, much more so than hard surfaces. If you live in an area that has winter temperatures that can dip below 40 degrees, carpeted floors can greatly cut back on your electricity and natural gas bills.
Hardwood
Hardwood floors are as classic as they are beautiful, and a unique hardwood floor is the ultimate statement of style. Many modern styles revolve around the implementation of beautiful hardwood floors. Modern design favors more muted tone woods like grey oak and darker stains with wider individual planks. The "Rustic Farmhouse" style popularized by designers like HGTV's Chip and Joanna, calls for more warm tones like rich browns accompanied by distressed stain treatments. You can also opt for beautifully detailed hardwood patterns like herringbone for your entryway. A unique and beautiful hardwood flooring design can easily become the focal point of any room.
Laminate
Laminate gives you all the aesthetic benefits of hardwood while cutting back on your overall costs. Laminate flooring is a wood composite that mimics the look and feel of wood, allowing you to choose from a wide variety of textures, colors, and sizes. The world of laminate has come a long way and certain laminate composites have actually become more scratch resistant than their hardwood counterparts, but hardwood will always last longer under natural aging conditions. McSwain Carpets & Floors proudly offers a wide variety of laminate options to choose from and expert installation teams to get your project done right.
Waterproof flooring and Ceramic Tile
If you have pets or children, you need a flooring option that can stand up to the stress and wear and tear that comes along with them. Waterproof floors and ceramic tiles can deal with whatever stress you can throw at them, making them perfect for entryways, mudrooms, and even bathrooms.
When it comes to flooring, if you can dream it, we can make it a reality. From hardwood to carpets, we can help you design, install, and refinish your floors to keep your home looking fresh and beautiful. If you would like to learn more about different flooring options and designs, contact us at McSwain Carpets & Floors today!