Waterproof Flooring for Finished Basements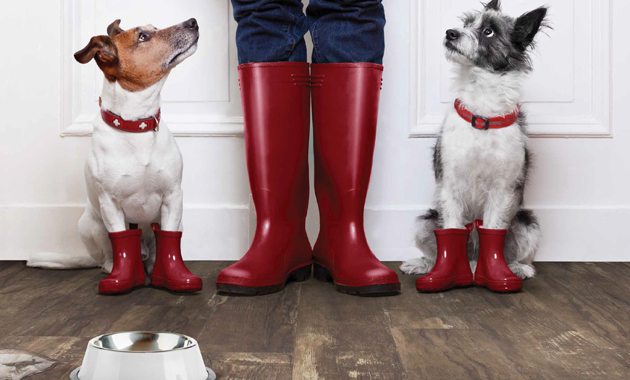 Choosing the type of flooring you want for your finished basement is a big decision, and with so many options available, it can be easy to feel overwhelmed during the process. One of the golden keys to choosing the right flooring for your basement is to consider how the flooring material will react to moisture. Keep in mind that since your basement floor is considered to be a "below grade" surface (a.k.a. below ground level), it is particularly susceptible to damage due to the effects of condensation and humidity. With utility and practicality in mind, waterproof flooring is the perfect option. Below are some of the benefits of waterproof flooring.
Durability
Like vinyl, waterproof flooring is incredibly durable making it perfect for high traffic and high moisture areas like basements, mudrooms and bathrooms. The scratch and stain resistant material make waterproof flooring worry free, and clean-up a breeze! Whether your basement features a theater, game room, bar or playroom for the little ones, you'll never have to worry about your floor getting damaged.
Comfort
Waterproof flooring is comfortable to walk on and warm to the touch, so you won't have to worry about having cold feet as you spend time in the basement. The material is also easier on your joints compared to traditional flooring options, which is always a plus.
Designs
With waterproof flooring, you don't have to sacrifice your style for practicality. Waterproof flooring comes in a number of colors, styles and finishes, including exotic wood, traditional wood, rustic wood, distressed wood, tile, stone, slate, travertine and concrete visuals. With waterproof flooring, you'll get the look you want with the toughness to withstand children, pets and heavy traffic.
Cost
Prices vary by brand, but on average waterproof flooring starts at $3 per square foot and goes up from there. As you peruse the vast selection keep in mind prices don't include installation.
Installation
With waterproof flooring, installation is a breeze! Waterproof flooring is the perfect option for concealing imperfections in subfloors. Grout, glue and peel-and-stick options are available depending on brand and style. Many plank options offer a grout- and glue-free installation using locking technology – perfect for do-it-yourselfers.
At McSwain Carpets and Floors you'll find waterproof flooring options from Armstrong, Congoleum, Mannington, Shaw and COREtec. No matter which brand you choose, it never hurts to get professional advice regarding your basement floor project. The team at McSwain Carpets and Floors has the