Turn Your Bedroom into an Escape with the Right Flooring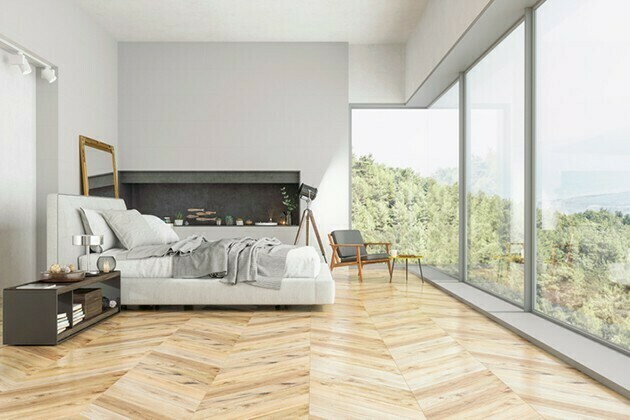 You start and end each day in your master bedroom, so it's important to make sure it's a place where you feel comfortable and relaxed. While you may not think about it often, the floor beneath your bare feet is just as important as your bed. After all, your flooring is one of the first things you come in contact with each morning. To ensure your master bedroom is as an escape at the end of a busy day, consider these flooring options:
Carpeting
There's a reason why carpeting has been the favorite master bedroom flooring option for decades, it's warm and cushiony under tired feet. Carpet also comes in a rainbow of colors and designs, helps manage the room temperature, reduces noise, and it is affordable. When it comes to selecting a type of carpet, it's important to note that there are two main types – cut pile and loop pile. Of course, each style has its benefits and drawbacks, which you can learn about here
Wood Flooring
There's something about the warm, natural look of wood flooring that has drawn homeowners to it for centuries. When it comes to wood flooring, you have several options to choose from, but the most popular woods for flooring are walnut, oak, and maple. Additionally, you have two types of wood flooring to choose from: solid and engineered wood. Solid wood is exactly what you're thinking – solid slabs of wood all the way through. Engineered wood, on the other hand, is created using several layers of wood veneers to create each solid piece. No matter which type of wood you choose, wood flooring is sure to add style and elegance to your bedroom.
Laminate
If you are interested in having wood flooring in your master bedroom but are unsure of the price tag, laminate flooring is the perfect alternative. Laminate flooring comes in a wide variety of styles that simulate the look of natural hardwood, stone, and ceramic tile. Not only does laminate flooring look beautiful, but it's also easy to maintain and durable. Overall, laminate is an excellent option in lieu of hardwood, but it will not last quite as long as it's natural counterpart.
Cork
Like carpet, cork flooring is soft and cushiony under your feet, as well as an insulator of both noise and heat. For those that like the benefits of carpet but prefer the look of wood, cork is a perfect option. Additionally, this green flooring optionis both hypoallergenic and easy to maintain.
Bamboo
Like laminate, bamboo is another popular alternative to traditional hardwood flooring. Like wood flooring, bamboo flooring is durable and strong. Bamboo is also more water and stain resistant than wood floors, making it a great option for pet owners or parents of little ones.
There are several flooring options to consider for your master bedroom. Don't let the options overwhelm you, visit one of our nine showrooms in Northern Kentucky, Cincinnati, and Dayton and let our team help you find the perfect flooring solution. Whether you're interested in our hardwood flooring or carpet services in Cincinnati, Dayton, or anywhere else in the Ohio tri-state area, our team is ready to help you turn your bedroom into an escape!