The Perfect Flooring Options for Basements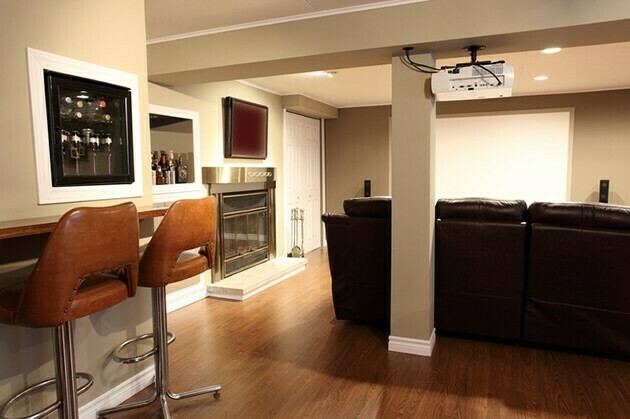 With cooler weather slowly approaching, you may be thinking of ways to improve your basement. After all, we'll all likely be spending more time at home and indoors this year compared to years past. Whether you're dreaming of transforming your basement into a play area for the kids, a home office, or an entertainment space, picking the right flooring for your basement is a critical part of the project. Fortunately, our McSwain Carpets & Floors team knows a thing or two about finding the right flooring for your upcoming basement project. In today's blog, we'll review the best flooring options for basements.
Before we start discussing the best flooring materials for basements, it's important to first consider the biggest threat to basement flooring – moisture! If you've ever had your basement flood after a bad storm or another mishap, you know how important it is to have flooring that can stand up to any amount of moisture and water. Even if you reside in a dry area or have never had an issue with moisture, it's still a potential threat. So, it's important to keep in mind. Now, let's talk about flooring options:
Luxury Vinyl
Vinyl has come a long way over the years. Today, you can find vinyl in nearly every color, style, and texture imaginable. Not only will it complement your décor and vision, but it's also incredibly durable. Vinyl is resistant to water, mildew, and stains. Additionally, this flooring option offers comfort and noise reduction. For your basement, vinyl is the perfect solution that won't break the bank.
Ceramic Tile
Like luxury vinyl, ceramic tile is also incredibly durable and comes in a plethora of colors, styles, textures, and designs. Also, tile is water, fire, stain, odor, and dirt resident, meaning cleaning is a breeze with this material. While tile may sound like the perfect basement flooring solution, it is important to consider the temperature. When the tile is laid on concrete it can be cold underfoot, however, this can be solved with radiant heating.
Engineered Wood
Unlike solid hardwood, engineered wood is up to the unique challenges of basement flooring. Engineered wood is produced using three to 10 layers of wood that is stacked in a cross-grain formation. This unique configuration allows engineered flooring to withstand mild amounts of moisture. Engineered flooring also provides excellent sound absorption making it a great option for basements.
Waterproof Flooring
Waterproof flooring, also known as engineered vinyl plank flooring is specially designed to withstand nearly any amount of moisture and foot traffic. This means your basement will be free from the risk of developing water damage, mildew, or mold. Like the aforementioned luxury vinyl, waterproof flooring is available in a wide variety of colors, textures, and styles. You may also be surprised to find out that waterproof flooring is reasonably priced.
No matter what challenges you and your family are facing this year, finding the perfect flooring for your basement doesn't have to be one of them. Whether you decide to have waterproof flooring installed in your Cincinnati home or have tile installed in your Dayton basement, know that the team at McSwain Carpets & Floors is here to help you every step of the way. Get started on your next project by visiting one of our locations today, or take advantage of our Shop @ Home service.