Spring Cleaning Tips for Your Floors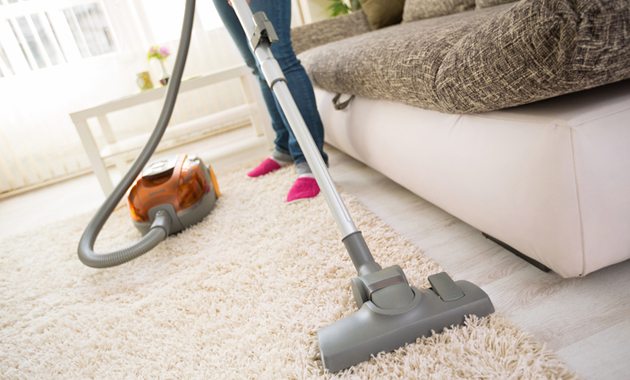 Spring time is upon us, and along with planning all of your outdoor activities, it's a good idea to work some spring cleaning into your schedule as well! Below are some handy tips to help you give your floors a good spring cleaning treatment.
Hardwood Flooring
This naturally beautiful floor covering needs little more than regular sweeping, dusting and/or vacuuming to stay looking great, but here are some important tips to help you ensure that you keep your hardwood floors in tip-top shape:
Only use cleaners that are specifically formulated for hardwood floors. Abrasive cleaners are a big no-no.
Don't use steam mops, as the floor can be damaged due to the high temperature of the steam.
Avoid using a buffing machine, as it can wreak havoc on your hardwood floor.
If you have any wet spills or tracked-in dirt on the floor, don't let it sit; wipe it up as soon as possible.
If you're trying to scrape off a sticky substance, take your time and be gentle, as applying too much pressure can scratch or damage the floor's finish.
Carpet
The spring season is a fantastic time to do a "deep dive" on your carpet cleaning efforts. Here are some tips to help you not only with your spring cleaning, but throughout the year as well:
There's no better time than the spring to get your carpet professionally cleaned. Aim to get this done every 6 to 12 months to keep your carpet in optimal shape throughout the year.
Maintain your carpet by vacuuming at least once a week, but you'll probably have to vacuum much more often if you have kids.
If you're trying to clean certain spots or stains, try using only water at first before taking it up a notch with more robust cleaners.
If you have a pet who just loves to shed their hair everywhere, keep a carpet brush on hand to keep those stray hairs from accumulating on your carpet.
Vinyl Flooring
Vinyl flooring is generally easy to keep clean, but here are some tips to go a little further for the sake of spring cleaning:
For an eco-friendly and highly effective cleaning solution, try diluting one cup of apple cider vinegar in one gallon of warm water, and use this to sponge mop your vinyl floor.
For stains or discolorations from food such as pasta sauce, grape juice, ketchup, etc., create a paste using water and baking soda, and gently scrub the stain using a sponge until it goes away.
Avoid using ammonia, as this can degrade the vinyl and cause cracking or damage.
Place coasters under the legs or feet of heavy furniture to avoid permanent indentations.
Ceramic Tile
This ultra-durable flooring material is perhaps one of the easiest to keep looking good, but here are some helpful cleaning tips:
Sweep your tile floor to get rid of loose dust, debris, pet hair, etc. If you want to go a quicker route, just break out the vacuum with the appropriate attachment and go at it.
Sticky substances can be removed with any type of plastic or nylon scraper; hey, even an expired credit card can do the trick!
Damp mop only; don't try to use the super-wet "bucket and water" approach, as this could lead to a buildup of mildew or mold.
Even after damp mopping, dry your tile floor with a clean cloth or towel.
Avoid using soaps or detergent, as they can dull the surface of the tile.
Laminate Flooring
Laminate flooring offers the gorgeous look of natural wood, but with a little less maintenance. These tips will help you keep your laminate floors spic-and-span for spring:
Avoid using any cleaners that contain soaps or detergent.
You can get by with using a damp mop or dust cloth for general cleaning efforts.
Only use cleaners that are specifically formulated for laminate flooring.
As with hardwood floors, don't let spills sit on laminate flooring; wipe them up ASAP.
Avoid steam mops, as the high temperatures can cause significant damage to laminate flooring.
Stay away from polishing, waxing or buffing machines.
As you can see, there are several different methods for cleaning different types of floors. If you have any questions about what cleaning methods would be the best for your particular flooring, please reach out to us at McSwain Carpets and Floors. Whether you're cleaning carpet in Dayton or hardwood flooring in Cincinnati, our highly experienced team can offer you the professional insight you need to get the job done right. Happy spring cleaning!