Set Your Bathroom Apart with Beautiful Flooring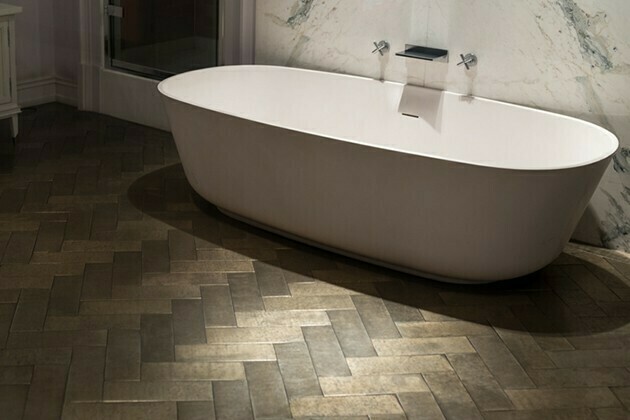 The bathrooms in your house are some of the best places to express your personal style. From intricate tilework to beautiful granite slabs, your bathroom can easily become one of your favorite rooms in your house. Your master suite is supposed to be an oasis from the world, letting you feel relaxed and calm even after the hardest of days. It has never been easier to build the bathroom of your dreams with the help of McSwain Carpets & Floors' Shop @ Home program. One of our expert design consultants will bring the showroom right to your home with flooring options that fit your personal style. If you are interested in redoing your bathroom, here are three of our favorite flooring styles to beautify your bathrooms.
Mosaic
Mosaic flooring has been around for thousands of years and its beauty has pervaded almost every culture around the world. With mosaic tile floors, you can get as creative as you want to with your design choices from unique patterns to beautiful colors and stones. We offer a wide variety of pre-built mosaics that allow you to create a beautiful bathroom floor on a budget. We also build beautiful custom mosaics to create a truly unique floor for any style bathroom. These unique and eye-catching designs are perfect for bathroom flooring as they are durable, waterproof, and easy to care for. If you are looking for the perfect way to set your bathroom apart from the norm with a beautiful statement, mosaic tiles are exactly what you are looking for.
Textured Tile
If you are looking to add some depth and texture to your bathroom, textured tile is a great solution. Textured tiles can be used for backsplash and flooring alike, so you can easily unify your design to cover your entire space. Textured tiles can range from beautiful art deco style ceiling tiles to intricate mosaics, so whatever your style is; we have the right textured tiles for you.
Wood-like Tiles
If you are looking for something a bit more rustic, wood-like tiles give you the look and warmth of traditional wood flooring while providing exceptional protection from water. Wood is usually off limits for bathrooms, but with wood-like tiles, you can easily have your flooring extend to every corner of your living space, including bathrooms, laundry rooms, and kitchens alike. Our wood-like tiles have beautiful wood grain built into each, with slight color differences and grain differences to create a unique and beautiful appearance that differs depending on your style preferences.
A beautiful floor can easily become the centerpiece of any room. If you are looking to redo your bathroom flooring or the flooring in any part of your house, it is important to choose the right flooring professionals. At McSwain Carpets & Floors, we know how important your flooring is, which is why we have been chosen to do some of the most prestigious home flooring projects in the tristate area. If you want to look for some flooring inspiration, check out some of our favorite projects.