Revamp Your Outdoor Living Space with Tile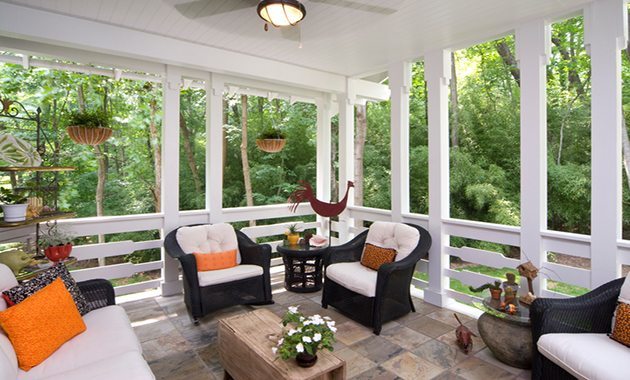 The use of tile in outdoor spaces is a tradition that dates back to the days of antiquity, but in recent years, this timeless surface covering has enjoyed a notable resurgence in popularity. Advances in tile making technology have opened up a whole new world of design possibilities for patios, decking, gardens, and other exterior areas. Along with being weather-resistant, easy to clean and easy to repair, exterior tile flooring also comes in an incredible variety of styles, sizes, and materials, so the possibilities are truly endless. If you've been thinking about revamping your outdoor living space with tile, below are some key points to consider as you're narrowing down your options.
Before You Choose Your Tile …
There are several important factors that you need to consider before you settle on which type of tile you're going to choose, including:
Foot traffic: If the location of your project is typically subject to a high level of foot traffic, it will be better for you to go with heavy-duty tiles that are able to withstand that type of abuse.
Grip: For outdoor areas, it's best for you to stick with tiles that offer a non-slip surface, as wet conditions can cause safety hazards that can end up in injury. For example, choosing a tile with an adequate grip factor is a must for a pool deck.
Lighting level: If the space you're renovating has poor lighting, you definitely want to choose a tile that can brighten up the area. The general rule of thumb is this: Choose darker-colored tiles for places that get plenty of light and choose lighter-colored tiles for areas that typically do not receive much light.
Color: You will need to give some thought to what type of color scheme you want to establish for your outdoor living space. While some homeowners choose to go with a tile color that matches the exterior elements of the house, others opt for a contrasting color to provide additional variety. If you would rather keep things neutral, you can always go for reliable greys, browns, beiges, or blacks to achieve an understated look.
Popular Outdoor Tile Choices
Porcelain: As a non-porous, stain-proof material, porcelain is an excellent choice for outdoor applications. Not only is it fade and scratch-resistant, but it's also impervious to water, which means that you won't have to worry about your tiles absorbing water from snow during the winter, only to freeze, expand and crack later. Porcelain tiles with slip-resistant surfaces, in particular, are a great choice, as they provide adequate traction along with excellent weather-resistance.
Natural Stone: As the name implies, natural stone tiles are derived from a variety of natural stone materials including granite, slate, marble, travertine, and limestone. They're available in square and rectangular shapes and come in a wide range of colors and finishes. One of the biggest selling points for natural stone tiles is that their patterns are naturally formed, which makes them a great match for the amazing variety found in natural surroundings.
Brick Pavers: With their exceptional durability and ease of maintenance, brick pavers create a traditional look that's hard to beat. You can also have the brick laid in a variety of patterns (e.g., herringbone) to boost the visual interest of the space.
Concrete Pavers: When most people think of concrete, they picture a plain, off-white material, but nowadays concrete is available in a staggering array of stains, colors, textures, and stamped patterns that can provide outstanding aesthetic appeal. In addition, concrete is strong, durable and slip-resistant as well.
An outdoor tile project is no small undertaking, so it never hurts to get some help from experienced professionals along the way. McSwain Carpets & Floors is not just known for interior projects, such as carpet installation in Cincinnati, but we have extensive experience with outdoor tile projects as well. Give us a call or visit one of our showrooms today to see how we can help you take your outdoor living space to the next level!