Light vs. Dark Hardwood: Pros and Cons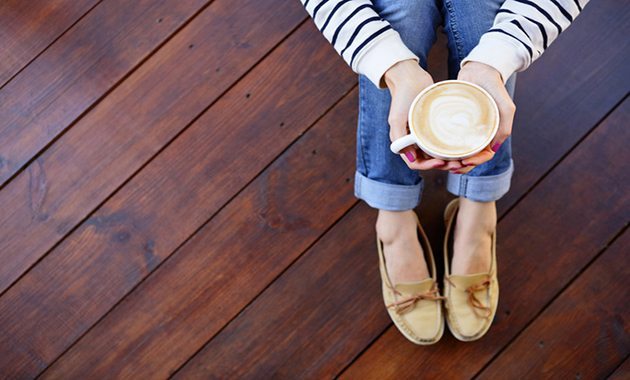 It's hard to argue with hardwood as a flooring choice – after all, it's extremely durable and remarkably versatile, and it offers outstanding value for the money. While choosing hardwood flooring might be a no-brainer, deciding between dark or light hardwood is something that requires more careful thought. If you've been trying to decide whether to go with light or dark hardwood, keep the following points in mind to help you weigh out your options.
Light Hardwood Floors: Pros and Cons
Pros
One of the most outstanding benefits of light hardwood flooring is its ability to brighten up a living space. Light woods such as yellow birch or white oak can add a cheerful, airy look to practically any room, and even if the space is somewhat small, choosing a light wood can expand the area in the viewer's eye.
In terms of maintenance, light hardwood flooring has a bit of an advantage over dark wood because it tends to reveal less dirt than its darker counterpart. This means you'll have a little more leeway in terms of upkeep during those busy weeks when it's all you can do just to keep the floor swept.
Light colored hardwoods are an ideal choice for homes that have pets, because scratches will not be as noticeable as they are on dark wood floors.
Cons
Light flooring needs to be matched well with the surrounding decor and color options; otherwise, it will provide too stark of a contrast to be visually palatable.
Some species of light hardwood – beech and white ash in particular – don't hold up very well in highly-trafficked areas such as kitchens, playrooms and home gyms. Be sure to do your homework before installing a light hardwood in an area with heavy foot traffic, to ensure you choose the right species in terms of resilience and durability.
If you're going for a more contemporary look, the current trend seems to be in favor of darker wood colors, but bear in mind that matters of style are largely subjective. Many people consider light hardwood to be the better choice over the long haul, because it offers a more timeless aesthetic.
Dark Hardwood Floors: Pros and Cons
Pros
Dark wood flooring is generally considered to provide a heartier, warmer and more elegant look than its lighter counterpart.
When it comes to decorating options, dark wood offers outstanding versatility. It can complement a wide range of color choices, and when paired with lighter-colored decor, it provides an eye-grabbing visual contrast that really "pops."
When properly stained, dark wood floors really showcase the beauty of the natural grain patterns in the wood. The rich details brought out by the stain work can create a striking and dramatic look that isn't quite as apparent in lighter options.
Dark wood flooring absorbs more light, making it less susceptible to fading than lighter alternatives. Consequently, this means darker floors typically won't need to be refinished as often as their lighter counterparts over their useful lifetime.
Cons
Scratches, scuff marks, and dents can definitely pose a problem for dark hardwood flooring, because these surface aberrations are typically more visible on its dark surface. Keep in mind that the wood is quite pale beneath the top layer of dark hardwood, so any deep scratches can expose this lighter-colored wood and make it stick out like a sore thumb.
If you're thinking about installing dark hardwood floors in a room that doesn't get much natural light, bear in mind that the dark floors could have a dimming effect on the entire space.
In some homes, installing dark hardwood flooring can make the living space appear smaller than it actually is. However, this can be overcome with a little creativity in terms of color choices for the walls, furniture arrangements, etc.
Choosing between dark or light hardwood flooring is not always an easy decision to make. If you're not quite sure which route to go, the flooring experts at McSwain Carpets & Floors can help. We have extensive experience with installing hardwood flooring in Cincinnati, Dayton and Northern Kentucky, and we can offer you seasoned advice and expert insight to help you make the right flooring choice. Call us today, or stop by one of our showrooms to get your flooring project started off on the right foot!