Learn How Laminate Can Be Used in Almost Any Room of Your Home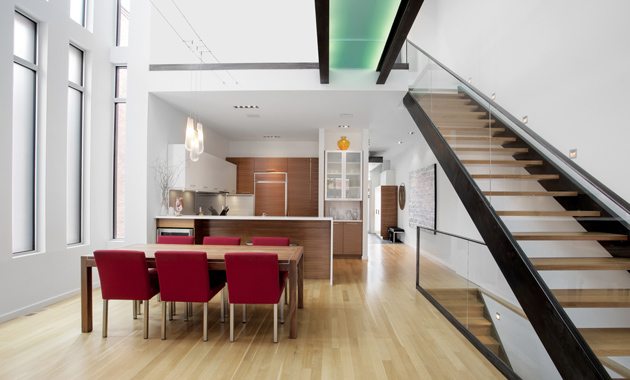 Laminate flooring has come a long way since it was first introduced back in the late 1970s. Advances in technology have enabled manufacturers to create a vast array of laminate products that are more durable, affordable and authentic-looking than ever before. If you've been considering whether or not laminate flooring is the right choice for your next home improvement project, the following points will give you some insight into the remarkable versatility of laminate flooring, as well as how it can be used in almost any room of your home.
Versatility of Design
One of the well-known strengths of laminate flooring is the vast array of designs that are available to homeowners who are looking for an affordable alternative to highly sought-after flooring surfaces that carry prohibitive costs. Today's laminate flooring offers outstanding versatility, with designs that replicate everything from domestic and exotic woods to slate, ceramic tile and travertine. You can also choose from an extensive selection of plank widths and tile styles in order to create a customized look that will reflect your personal taste and design sensibilities.
Durability
Laminate flooring offers more than just a pretty surface; it's also an extremely resilient material that can withstand the rigors of heavy foot traffic, staining, moisture, and sun-fading. This makes it a good choice for high-activity areas such as kitchens, family rooms and entryways. Homeowners who choose laminate flooring often comment that it's the perfect surface for "real life", as it is both kid-friendly and pet-friendly. It's also much easier to clean and maintain, often needing little more than a quick damp mop or light wiping to keep everything looking good as new. The exceptional durability of laminate flooring makes it a worthy candidate for use in practically any room in the house.
Easy Installation
One of the biggest benefits of laminate flooring is its ease of installation. You can install laminate flooring over a wide variety of subfloors, making it a good fit for everything from kitchens and living rooms to areas with below-grade flooring (e.g., basements). In some cases, the installation capabilities of laminate flooring can surpass those of its natural counterparts; for example, you can install laminate flooring over a radiant heating system, but not so with hardwood flooring! Not only that, but the interlocking tongue-and-groove technology of laminate flooring makes installation as simple as clicking the right pieces into place.
Strength
Laminate flooring is remarkably strong, as it is constructed in layers of material that include a high-density fiberboard core and a special moisture-resistant resin. This ensures that the flooring material will be far less susceptible to bending, cracking or warping versus its natural counterpart. Laminate flooring also produces a non-resilient surface, which means that it has very little "give" when you walk on it. This makes it perfect for rooms that are frequently trafficked (no squeaks or spongy feeling underfoot!), as well as any areas that will feature heavy furniture.
Affordability
Laminate flooring can provide the highly coveted visual appeal of hardwood or stone flooring for only a fraction of the cost. The cost savings that laminate flooring offers makes it a great option for practically any room in your house, even the ones that require covering large areas.
As you can see, laminate flooring has a wide range of characteristics that would make it a good fit for practically any room in your home. If you're not quite sure which type of surface you should use, consult with the flooring experts at McSwain Carpets and Floors to help you weigh out your options. We have earned a reputation for offering the quality laminate and hardwood flooring Cincinnati homeowners prefer, and we would be more than happy to lend you our insight and expertise for your next flooring installation project. Call us, or stop by one of our showrooms today to find out more!