Laminate, Vinyl, or Hardwood: Which Material is Right for You?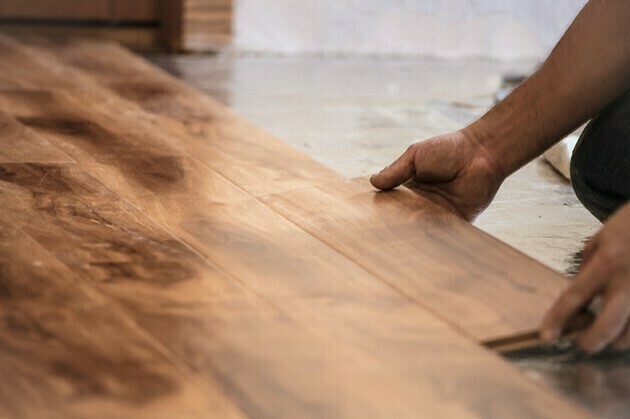 Flooring has come a long way over the years. With so many flooring choices available, it can be difficult to decide which material is right for you and your home. In today's blog, we'll explore the benefits of laminate, vinyl, and hardwood flooring to help you decide which flooring option best suits your lifestyle.
Laminate

Upgrading the look, feel, and comfort of your floors doesn't have to cost a fortune. If you're interested in upgrading your floors for an affordable price, you may want to consider investing in laminate. Today's laminate flooring comes in a variety of styles, designs, and colors, including hardwood, ceramic tile, and stone. Additionally, laminate is low maintenance, making it a perfect solution for busy homeowners. For those with young kids and/or pets, you'll be happy to learn that laminate is resistant to staining, water damage, and fading. It's also nearly indestructible, so you can rest assured knowing that your new flooring will stand the test of time for years to come.
Vinyl
Vinyl flooring has changed a lot since it first gained popularity in the late 1940s. Today's vinyl flooring options are more versatile, stylish, and durable than the vinyl floor you may remember from your childhood. Like laminate, vinyl is stain, scratch, and water-resistant, making it a great choice for virtually any room in your home.
This comfortable, yet resilient flooring solution comes in a wide variety of colors, shades, and textures, including wood. Wood-looking vinyl floors have been one of the most popular choices among homeowners for the past two years. To find out why laminate is a great option for your floors, visit one of our nine showrooms and experience it for yourself.
Hardwood
Hardwood flooring has been a popular choice among homeowners for years and it's easy to see why – it's an effortless way to add warmth and richness to any room. Plus, it's a great long-term investment, as having hardwood floors in your home increases the value of the property due to its long lifespan. While vinyl and laminate can give you the same look, they won't last nearly as long as the real thing. From traditional varieties such as oak, maple, and ash to more unique selections like cumaru and tigerwood, we have a large inventory of natural and manufactured hardwood flooring options to choose from.
No matter which material you choose, you'll find an unmatched selection at your nearest McSwain Carpets & Floors location. With six locations in Cincinnati and Northern Kentucky and three Dayton area locations, our experienced team will help you the perfect flooring solution for your home and budget.