Go Green with Beautiful Environment-Friendly Flooring Options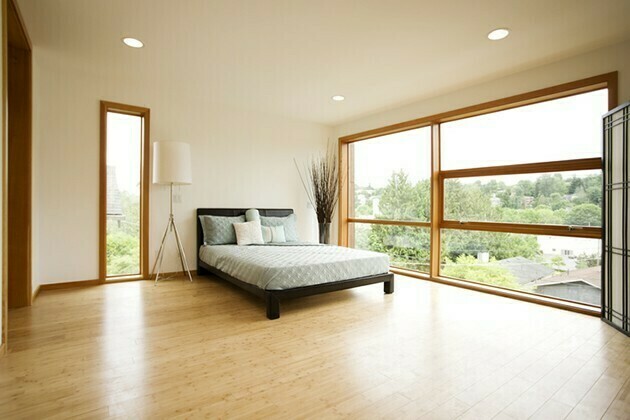 In recent years, more people have turned to environmentally friendly alternatives to items they use in their day-to-day lives, such as reusable water bottles, coffee cups, shopping bags, and so much more. With this trend on the rise, it's no wonder homeowners are turning to sustainable flooring options for their home improvement projects.
If you are interested in using green flooring materials to update your home, you should consider our selection of cork and bamboo flooring options available. In today's blog, we'll find out why.
Cork Flooring
Cork flooring has been available for decades; however, it has only recently gained popularity, as more homeowners are turning to renewable resources for their renovation projects. After all, cork flooring is made from the bark of the Cork Oak Evergreen Tree. Native to the Mediterranean Region, Cork Oak Evergreen Trees aren't cut down for the manufacturing of cork floors. Instead, the trees' bark is harvested and regrows over a period of eight to 10 years. Other than being made of sustainable material, there are several other benefits of choosing cork floors, including:
Comfort: Cork floors are soft and cushiony to walk on making it a great flooring option for areas of the house where you spend a lot of time standing, such as the kitchen .
Resilient: Although it's soft and cushiony, cork floors quickly bounce back when weight is applied to the surface.
Hypoallergenic: Cork floors do not collect dust, hair, or other small particles, making it an easy way to maintain a high level of indoor air quality. Cork floors contain suberin (a natural wax-like substance), an anti-microbial substance, which means it is resistant to mildew and mold.
Insulator: Cork contains millions of small chambers filled with air, which make it a natural insulator of both noise and heat. In the summer, cork floors reduce the spreading of heat into a room and keep heat in a room during the winter months. As a bonus, those with cork floors may notice a decrease in their monthly energy bills.
Bamboo Flooring
In recent years, bamboo has become a popular alternative to hardwood flooring options. As bamboo floors share many of the same positive characteristics as hardwood flooring, however, it's technically made from a type of grass. What sets bamboo apart from other renewable flooring options, like hardwood, is its relatively short maturity time of about three to five years. To determine if bamboo floors are right for your home, let's explore the other benefits:
Strong and durable: Depending on the harvesting and manufacturing technique used, bamboo can be as strong as red oak or stronger when strand woven.
Easy to Maintain: To keep your bamboo floors looking great, all you have to do is sweep, vacuum and occasionally damp mop.
Water Resistant: Bamboo floors are more resistant to water damage and staining than hardwood floors, making it a great option for kitchens and bathrooms.
Refinishing: Like any flooring material, bamboo floors may become discolored or scratched over time, however, with refinishing this is an easy fix. To refinish bamboo floors, all you have to do is sand down the material and then reapply the finishing coats.
Choosing a green flooring option for your home is a smart choice for your home. Whether you're interested in cork or bamboo our team is readily available to help you every step of the way. Call or visit one of our six Cincinnati and Northern Kentucky or three Dayton showrooms to start your green flooring project!