DIY vs. Professional Installation: What to Consider Before Making a Decision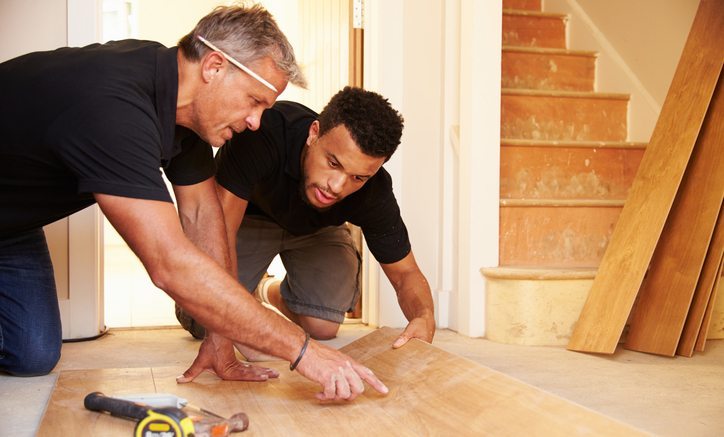 So you've made the decision to give one of the rooms in your home a "flooring overhaul," but you're not sure if you should try to perform the installation yourself, or hire some professionals to do the job for you. While going the DIY route has the obvious benefit of saving on labor costs, there are some other important things to consider as well; below are some key factors to keep in mind as you weigh out your options.
1. Room Design
One of the most often overlooked snags that can derail a DIY flooring job is not taking the design of the room into account. If the room has a fairly straightforward design, it won't be as difficult for a non-professional to perform the installation, but if there are some irregularities to the footprint of the floor area, you can easily run into a host of unexpected problems. Most of the time, complex room designs or irregular floor plans will simply not be worth the risk for a DIY project; in those cases, you will be much better off hiring a professional.
2. Cost
As mentioned earlier, one of the most obvious benefits of going the DIY route is that you'll be able to save money on labor costs, but what you have to remember is that there are a lot of extra costs associated with taking on this project yourself, especially in terms of supplies and equipment.
Whether you're installing carpet, hardwood flooring, tile flooring, or another material, keep in mind that each flooring type will require specialized supplies that most homeowners don't keep on hand, which means that you will have to go and buy these items at retail prices. Professional flooring contractors typically buy their supplies in bulk at a discount, which is an option that is simply not available to the average DIY-er. So not only will you have to come out of pocket for the supplies (usually at a higher price), but you will also have to rent or purchase the tools and equipment necessary to perform the installation.
In addition, you have to factor in the value of your spare time. By choosing to install the flooring yourself, you are spending your time doing something that you could have paid someone else to do, which means that you will have less time to pursue other personal interests.
3. Skill and Experience Level
When you hire a professional to install your flooring, you can be assured that the job will be done right the first time. Professionals understand all of the nuances of installing each particular type of flooring material, and they are well-versed in using the various specialized tools required to perform the job correctly.
If you haven't been professionally trained and you're largely inexperienced when it comes to flooring installation, it can be easy to make costly mistakes due to improperly performed work. When this happens, you'll spend more time and money than you had initially planned just to go back and fix all of the problems with the initial installation.
As you can see, there are some very important points to consider when deciding between a DIY flooring installation and hiring a professional. There are positives to each option, but the most important thing will always be the outcome of the installation. In most cases, a DIY installation will be a more uncertain route to go versus getting your flooring professionally installed.
McSwain Carpets & Floors has decades of experience in the flooring installation business, and our team of highly skilled and experienced flooring experts know how to get the job done in the most accurate, efficient and cost-effective manner possible. So whether you need carpet installation in Cincinnati or hardwood flooring in Dayton, you can trust McSwain Carpets & Floors to provide the highest quality work along with outstanding customer service. Contact us today to see how we can help you breathe new life into your living space with a top-notch flooring installation!