Bring Your Vision to Life with the Help of Design Tools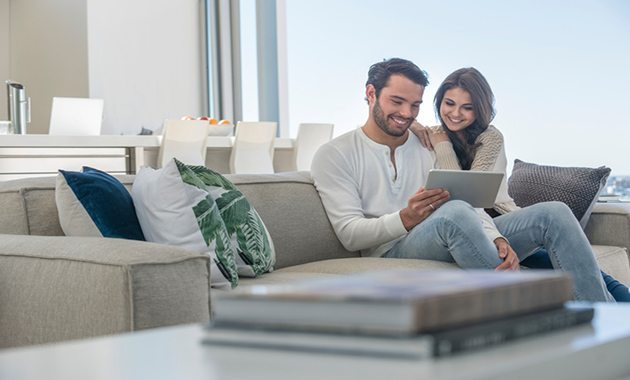 Maybe you've been thinking about installing new flooring in your kitchen, or perhaps you're looking to upgrade the carpeting in your family room. Whatever your particular project might be, it's never a bad idea to utilize digital design tools that can give you a visual representation of how everything will look when the project is finished. On the "Tools" page of our website, McSwain Carpets & Floors offers three highly useful design tools that can help you explore your remodeling options; read on to find out more about them.
1. Carpet Design-A-Room
This intuitive, user-friendly tool was developed by Stainmaster, and it is designed to help you select the perfect carpet for your needs, budget and lifestyle. The tool starts off by asking who's going to be using the space you're looking to cover, presenting you with options that include adults, kids, furry friends, and allergen-sensitive individuals. After you make your selection, the tool will then guide you through a series of subsequent questions to help identify what the area is mainly used for (e.g., family time, activity, retreat, guest area, etc.), as well as how often it is used (e.g., rarely, sometimes, often, or always).
The next step details the different types of carpet styles that are available (e.g., texture, shag/frieze, plush, pattern, berber/loop, etc.), and then the tool guides you to a section that allows you to choose your preferred carpet color palette. The final step before you see your results is to determine the type of budget you're working with, and from there, the tool will produce a qualified recommendation (or two) that fits the criteria you entered. This handy tool takes all the guesswork out of choosing the ideal carpet for your living space, and it's refreshingly easy to use.
2. Hard Surface Design-A-Room
If you've been thinking about remodeling a room, or if you've been wondering how a particular type of new flooring might look in your home, the Hard Surface Design-A-Room tool can provide you with an excellent visual rendering to help you make a quality flooring decision. The tool begins by asking you to select a room type (e.g., kitchen, bathroom, bedroom, dining room, etc.), and once you make your selection, you can then choose a style (e.g., traditional, casual, contemporary, country, eclectic, etc.) to begin narrowing down the flooring options you want for your room.
You will then be presented with a wide array of flooring products, and by simply clicking on the appropriate image, the tool will overlay that particular product onto the sample room, giving you a very realistic "sneak peek" of how it might look when installed. There are sorting functions that allow you to narrow down your choices based on flooring type, color, look (e.g., distressed wood, geometric tile, etc.), and even by a particular wood species. After adjusting the different variables to suit your preference, you can save your design and use it as a template for your real-world remodeling project.
3. Flooring Calculator
The flooring/carpet calculator guides you through all of the steps needed to determine the total amount of flooring you're going to need to complete your project. The tool first asks you to input whether your room shape is square/rectangular or L-shaped, and then you will be prompted to enter the length and width of the space. Once you submit this information, the Flooring Calculator will give you an estimate, measured in square feet, of the amount of flooring you're going to need to cover the target area.
When you combine these handy design tools together, you have a highly effective "remodeling trifecta" that can help you visualize how the finished product will look. In addition to these excellent design aids, McSwain Carpets & Floors also offers design consultations for a wide range of residential and B2B projects. Our team of experts has extensive experience in remodeling and installation projects of all kinds, from carpet installation in Dayton to hardwood flooring in Cincinnati, and everything in between. Call or visit one of our locations today to see how we can help you bring your vision to life!