6 Reasons to Consider Engineered Hardwood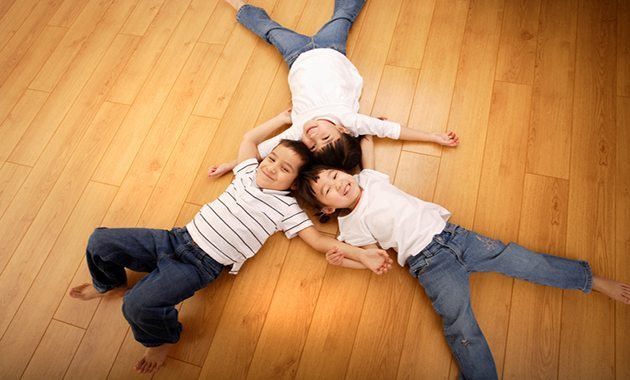 Engineered hardwood is one of the most popular flooring choices on the market today, and for good reason: not only is it a lower-cost alternative to solid hardwood flooring, but it also boasts several unique characteristics that make it a perfect fit for a wide range of flooring projects. Below are six reasons why you should consider using engineered hardwood for your next flooring installation.
1. Sturdy Composition
As beautiful as natural hardwood is, it is equally vulnerable to external elements such as temperature and humidity. Engineered hardwood planks, on the other hand, are comprised of several layers of plywood (topped with a layer of natural hardwood) that offer a sturdy and rigid core, which means that they will not expand or contract when exterior conditions fluctuate. This is one of the reasons why engineered hardwood floors can even be used in below-ground flooring applications, whereas natural hardwood should only be considered for ground level spaces and above.
2. Durability
As mentioned earlier, engineered boards are built using high-density layers of real wood, which makes for a durable and highly resilient flooring material. Engineered hardwood can stand up to the wear and tear of a busy household while maintaining its gorgeous appearance.
3. Versatility
Like its solid wood counterpart, engineered wood comes in a wide variety of finishes, grades and species. This specifically applies to the top layers (a.k.a. lamellas) of engineered wood planks. With such an expansive variety to choose from, you can select the color, style and finish that best suits your lifestyle and budget.
4. Cost-Effective
If you've ever priced an installation job for solid hardwood flooring, you know that it can be tough on the wallet. Engineered wood flooring provides the same beautiful look of natural hardwood without breaking the bank.
5. Ease of Installation
Engineered hardwood flooring is considerably easier to install than its solid hardwood counterpart. Depending upon which type of engineered flooring product you choose, the planks can be glued, stapled or click-locked together with minimal hassle. Engineered wood planks that feature interlocking edges can be installed over an existing floor using a process known as "floating," which means that the floor will be put into place without being attached to the underlying substrate.
6. Eco-Friendly
In terms of sustainability, engineered hardwood is a much more eco-friendly option than solid wood. On average, you can manufacture roughly four times the amount of engineered hardwood as you can solid wood on a per-square-foot basis. One of the reasons why is that the process used to obtain the veneer for engineered hardwood produces virtually no sawdust, minimizing waste in comparison to the process required to produce solid hardwood boards.
As you can see, there are several key reasons why engineered hardwood is a great choice for flooring projects of all kinds. With so many different types of engineered flooring products to consider, it never hurts to take advantage of the professional insight and guidance offered by McSwain Carpets and Floors. When it comes to flooring, we've done it all from installing carpet in Dayton to hardwood flooring in Cincinnati, and our team is well-versed in helping homeowners choose the right materials for their flooring projects. Contact us today to see how the versatility and cost-effectiveness of engineered hardwood may be just the right fit for your next flooring project.