6 Flooring Trends to Watch in 2018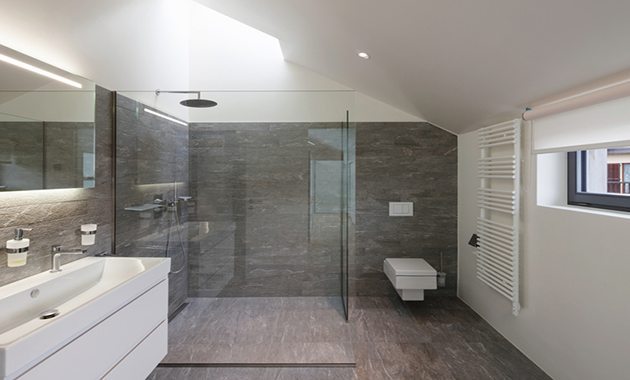 2018 is fast approaching, and among the many changes that the New Year will bring, there are quite a few flooring trends emerging that deserve our attention. Below are 6 flooring trends to keep an eye on as we move into the New Year.
1. Wire Brushed Floors
Emphasis on texture will be a running theme in 2018, and this is no better exemplified than with wire brushed floors. Considered to be a contemporary counterpart to distressed wood, wire brushed floors have a wonderfully understated texture that is typically achieved by exposing the heart wood to the surface via wire brushing (hence the name). This gives it an etched vintage look that really brings out the character of the wood grain.
2. Darker Colors
Over the past decade, there has been a subtle shift in trend towards darker flooring colors, such as ebony walnut or black stain. There has also been a move away from reddish or yellowish undertones in favor of cool or grayish undertones. The sleek, opaque look that darker floors provide definitely lends itself to a more modern vibe, but keep in mind that if you choose to go the dark route, you'll probably have to pull double cleaning duty to keep the (very visible) dust from accumulating.
3. Grays of All Kinds
Whether it's wood, tile, vinyl, or otherwise, gray flooring has caught on like wildfire in recent years, and this trend only looks to continue in 2018. The demand for variations in tonality has become stronger, with homeowners seeking out blends that include hints of brown and beige. Another popular choice is whitewashed gray, as it adds an aged, rustic look that really brings out the beauty of the natural wood.
4. Low Luster Finishes
From the looks of things, 2018 is shaping up to be the year that semi-gloss and glossy finishes take a backseat. Low luster finishes such as matte and satin are continuing to make waves, not only because they're easier to maintain, but also because they will look better for a longer period of time.
5. Farmhouse Style
The weathered, rustic look that exemplifies farmhouse style has become a megatrend in recent years, and this is due in no small part to the phenomenal popularity of popular renovation TV shows such as "Fixer Upper" featuring design maven Joanna Gaines (shiplap, anyone?). For flooring projects, in particular, the farmhouse look affords quite a bit of flexibility in terms of the width, color and texture of the planks. Planks with more "character" – e.g., knots, prominent grain patterns, distressed appearance, etc. – are all the rage, because for many people they represent a return to authenticity and simpler living.
6. Wider Wood Planks
For 2018, thin wood strips appear to be fading into the background in favor of wider wood planks. One of the benefits of going with wider planks for flooring is that they can open up the space by making the room look bigger. Whereas it was quite common only a couple of decades ago to install wood strips measuring 2 1/4," now the trend seems to point towards widths of 3 1/4," and oftentimes even wider.
No matter what your particular flooring preference might be, it's always a good idea to enlist the help of a professional to explore the possibilities for various renovation or installation projects. At McSwain Carpets & Floors, we pride ourselves on being able to provide expert insight and recommendations for projects of all sizes and budget levels, whether it's carpet installation in Cincinnati or refinishing hardwood floors in Dayton. If you're considering a remodeling or installation project and you want to discover all of the different options that are available to you, give us a call or visit our showroom today to see how we can help make your next project a success.