5 Tips for Picking the Right Flooring for Your Stairway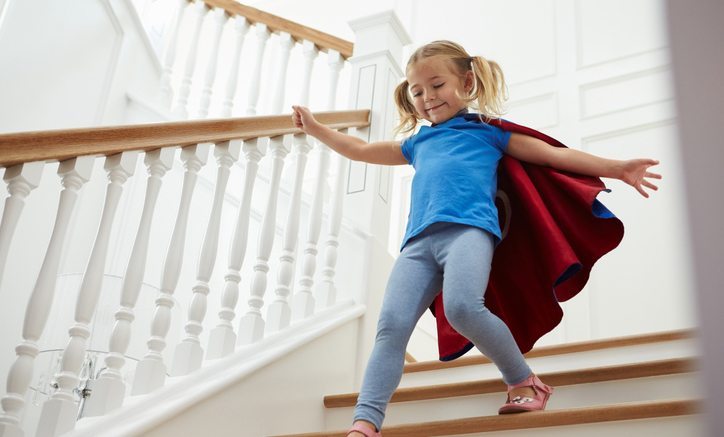 Most of us view our stairway as little more than a means to an end, but it can actually play a significant role in boosting the visual appeal of your home. If you've been thinking about which type of flooring treatment would be the best fit your staircase, below are five handy tips to help you pick the right flooring for your stairway.
1. Consider carpeting carefully.
Carpeting is a wildly popular stairway flooring choice for a number of important reasons: It's soft and therefore easier on the feet, it's quiet (a big plus if you have kids), it's affordable, and there are countless color and pattern choices to choose from.
That being said, it would be a big mistake to assume that you don't need to pay much attention to the type of carpet you're going to choose for your stairway covering. If you want to ensure maximum durability and longevity, be sure to pick a low profile, densely woven wool carpet, as they tend to hold up the best under heavy foot traffic. The only minor drawback is that stair carpeting can be difficult to vacuum, but this is a small trade-off for the comfort, safety and aesthetic appeal that carpet affords.
2. Pay attention to visual continuity.
When choosing your stair covering, be sure to pay attention to visual continuity, as this can greatly impact how the look of your home will flow between spaces. Keep in mind that a staircase is more than just a way to get from one level to another; it's also a visual tool that can provide a sense of integration and continuity from one space to the next. This is one of the reasons why many people choose to carpet their staircase when they have carpeting on the upper floor of the house.
By contrast, a carpeted staircase in a house where both the upstairs and downstairs have hardwood floors might seem a little out of place. If you have hardwood flooring throughout your home, consider using a runner instead of fully carpeted stairs. This way, you can reduce wear and add a greater level of comfort, while still leaving some of the hardwood exposed on the steps to provide that sense of connection between the upstairs and downstairs levels.
3. Make safety a priority.
While bare hardwood stairs are gorgeous and easy to clean, keep in mind that they can also be very slippery. This can pose a significant safety hazard, especially if you have elderly persons, small children or pets in the home. As mentioned earlier, you can add a carpet runner (in tones that match the flooring) to increase the safety factor.
4. Get creative at landing areas.
If your house has switchback (i.e., U-shaped) stairs, you can use this wonderful structural element to create an eye-grabbing visual feature. For example, you can carpet the upper portion of the stairs, keep your hardwood flooring on the landing, and then continue with carpeting for the lower portion of the stairs.
5. Prioritize the view from the lower level.
The view from the bottom of your staircase – not the top – is the one that's going to have the most visual impact. For this reason, be sure to weigh out your options (e.g., hardwood, carpeting or a runner) in light of what will best complement the existing flooring on the bottom level.
It's easy to feel overwhelmed when you're trying to decide what flooring choice will be the most ideal for your stairway. The good news is that McSwain Carpets & Floors is here to help! We have decades of experience in helping homeowners choose the best flooring options for their unique needs.
So whether you need hardwood flooring or carpet installation in Cincinnati, Dayton or Northern Kentucky, our team of seasoned experts knows how to customize each flooring project to best accommodate your preferences and budget. Give us a call or stop by one of our showrooms today – we would love to assist you with your next home improvement project!